With millions of mobile apps in the various app stores, getting your app visible is one of the biggest issues facing mobile app publishers today. The time of ASO Mobile Marketing has come!
WHAT IS ASO MOBILE MARKETING?
ASO (App Store Optimisation) is the process of optimizing mobile apps to rank higher in app stores search results for specific searches or categories. The main objective is to get higher app ranks to increase the traffic to your app page and therefore boost your app downloads.
WHY IS ASO IMPORTANT?
Mobile traffic is huge! It has grown from 1% of global traffic in 2008 to 30% in 2013 and now is expected to surpass the 50% in 2016.  some studies have identified when users are on a mobile device they can spend up to 80% of the time on apps. More importantly according to Forrester more than 60% of users find apps through searches in app stores. Therefore making sure your app is visible and gets found in the app stores is critical to your success.
KEY FACTORS TO CONSIDER WITH ASO?
The components that affect your ASO cAN slightly differ from Apple's App Store and Goggle's Play Store however these are  some of the most well-known ranking factors:
Onsite Factors
Keyword use in name and descriptions
Visual use of icons and screen shots
Offsite Factors
Volume of installs & download growth (download velocity)
Volume of ratings
Value of ratings
Number of uninstalls
App usage frequency
Backlinks: webpages linking to your app page
OUR ASO STRATEGIES:
Unlike with traditional website search engine optimisation and SEM, the partial success of an ASO strategy does include a mix were paid advertising and organic optimisation work together harmoniously to increase download velocity.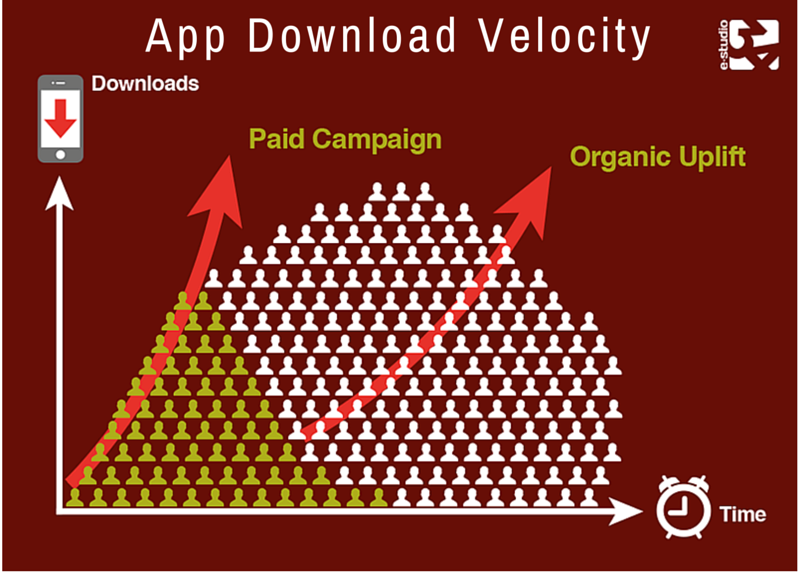 Our strategies combine both channels to increase app rankings including:
Onsite Optimisation:
Keyword and competitor Research
Optimisations:  tittles, descriptions and visuals
Offsite Optimisation:
Mobile Paid Advertising: we will create a paid advertising campaign to increase the download velocity using:
Link Building: We will build links from third party websites to your PlayStore page from third party websites to increase its relevance.
Review & Ratings Analysis : We will keep a close eye on what the review progress is to make sure its high and positive enough.
Reporting: monthly we will present reports on the ranking progress and competitors activity.
Mobile & Tech companies that trust us: